FRONT OFFICE STAFF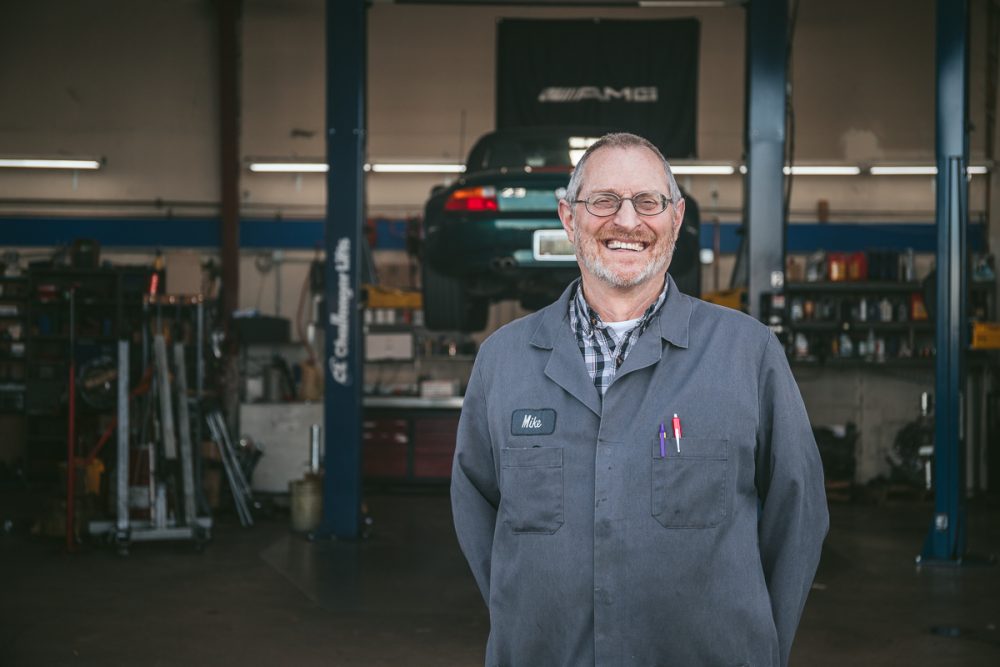 Mike
Owner / Master Guild Technician
Mike purchased Prestige Auto Repair in 2007 with the goal of offering quality, and affordable repair for your Mercedes Benz, BMW and Mini. Mike became a Master Guild Technician in 1994, one of the top 30 Mercedes Benz Technicians in the United States. That distinction allowed Mike to work for many dealerships in the state and has given him unique perspectives when it comes to diagnosing and servicing your German vehicle.
Another perspective Mike carries to the shop each day is a passion to train our younger mechanics in diagnosis and repair techniques.
Mike owns several older Mercedes, BMW's and a newer all electric Mini. He is passionate about these brands which drove his desire to help service what he drives.
Mike was born and raised in Salem Oregon, attended OIT and in his spare time, loves to spend time with family and friends, hiking, and riding his motorcycle. Oh yeah, he owns a Suzuki Weestrom and in the past BMW bikes as well. He is personable, approachable and above all knowledgeable. Come by and say hello!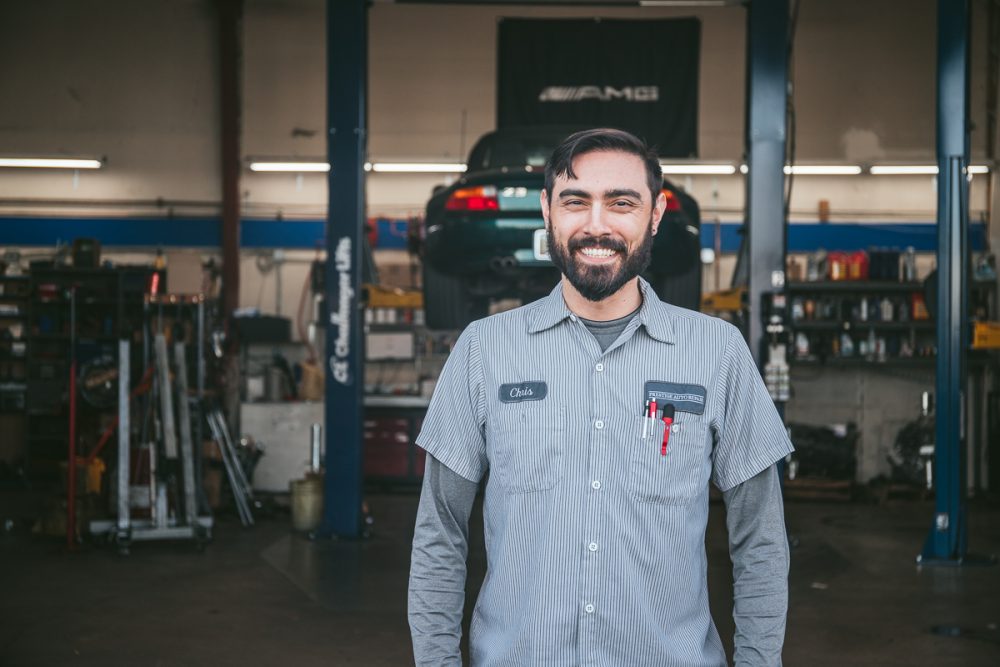 Chris
Lead Service Writer
You guessed it, Chris is Mike's son and has been part of Prestige Auto Repair since Mike purchased it in 2007. Chris is our Lead Service Writer and works hard to keep knowledgeable on parts and service for your BMW (his passion), Mercedes, Mini and the rest of the vehicles we service here at Prestige. Chris's experience in German cars is top notch which gives him an exceptional set of skills that he uses to pass on value to our awesome customers. Chris attended Portland State after graduating from South Salem High School but his love for the business brought him home.
Chris owns three BMW's that are in various states of restoration have taken a back seat after the birth of his first child. He likes to mountain bike, hike and of course spend time with his young family.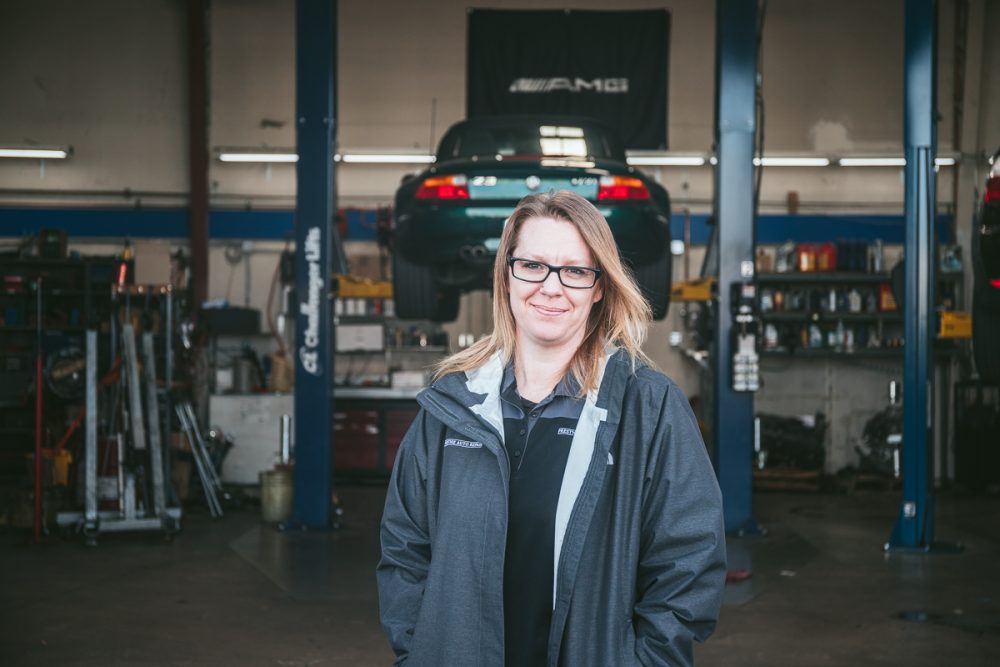 Michelle
Service Writer
Michelle came to Prestige after spending several years in the construction and home improvement field. She is our second Service Writer and does a great job under Chris' watchful tutelage. Her customer service skills are greatly appreciated and a welcome addition to the team at Prestige. You'll see her working away at the back desk, answering calls, and greeting customers during her day. Michelle grew up in the Mid Valley and now calls Salem her home. By the way, Michelle served as an Army Medic and was stationed in Germany in the early 2000's.
In her spare time, she loves to head to the beach and do a little treasure hunting, and at home gardening, and baking fill her "extra time". She also has almost 200 house plants which she describes as a "problem but a good one". When not involved with her "other" hobbies, she is mom to four kids from ages 3 to 18.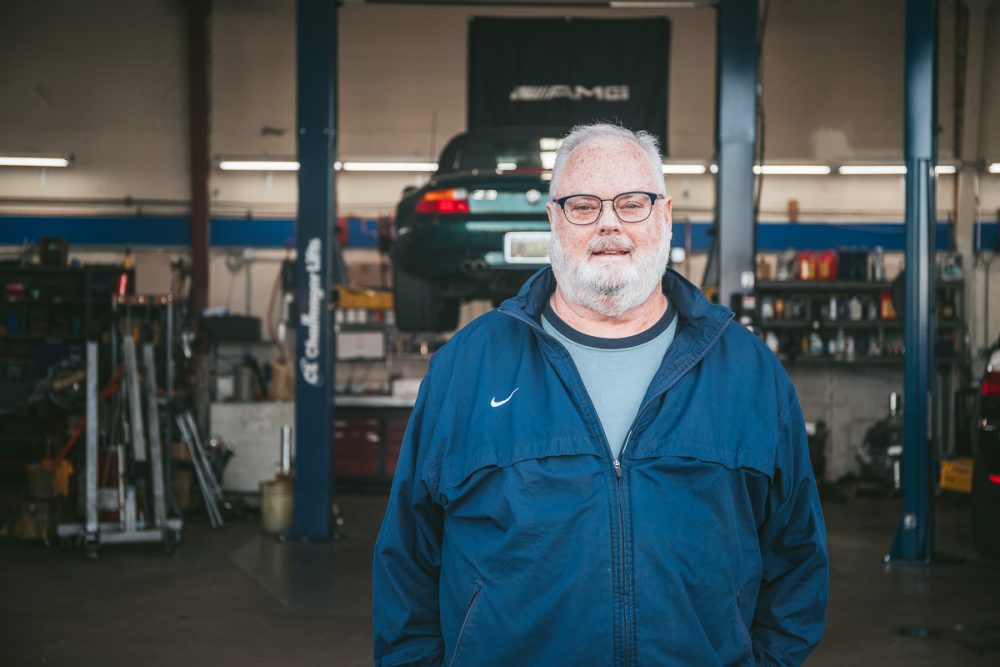 Ron
Operations Manager
Ron joined the team in June of 2021 as the Operations Manager. He has always' had an interest in German cars and met Mike and company several years ago when purchasing parts for his Mercedes Benz's. Over the years Mike and Ron developed a friendship and that has turned into a working relationship at Prestige. He has recently been involved in the IT field and before that spent close to 30 years teaching and coaching both high school and collegiate sports. Ron moved to the Mid Valley over 40 years ago and currently lives in Adair Village near Corvallis Oregon.
Ron's wife drives a 2005 ML350 Special Edition and his hobbies include fishing, golfing, spending the weekends in the trailer and rock hounding on Oregon's beaches and rivers with Karen, his wife of 40 years. He has four grown children and loves spending time with them and watching them navigate various stages of adulthood.
TECHNICIANS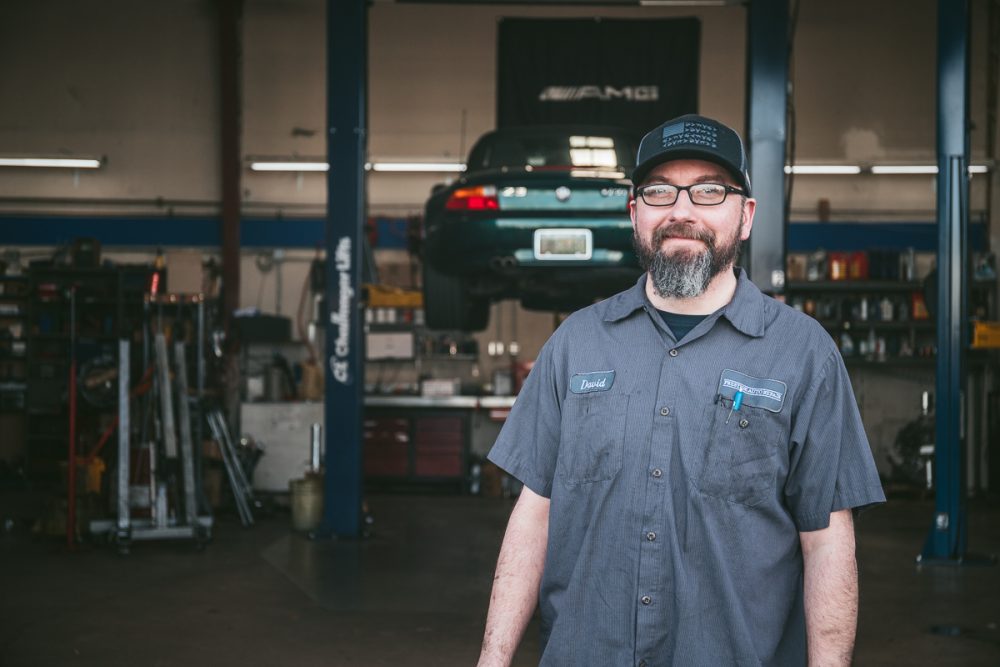 David
Shop Foreman
David has been at Prestige since Mike purchased the shop in 2007. With over 20 years of technician experience, David is a valuable member of our staff serving as our shop foreman. He helps with diagnosis and assists younger techs with more difficult repairs and diagnostics. And of course, has a steady stream of customer repairs as well.
Because of his knowledge and ability, David gets our more difficult repairs and considers each of these repairs a challenge to diagnose and restore to working order. With that, he gains tremendous satisfaction when a particularly difficult job is completed and back in the hand of our valued customers.
David owns several BMW's and Mercedes that are daily drivers to projects which can be seen in his home shop on the weekends with hoods up and David underneath. A true enthusiast!
In his "spare" time David can be seen with his family and RV at campgrounds in Oregon and places beyond.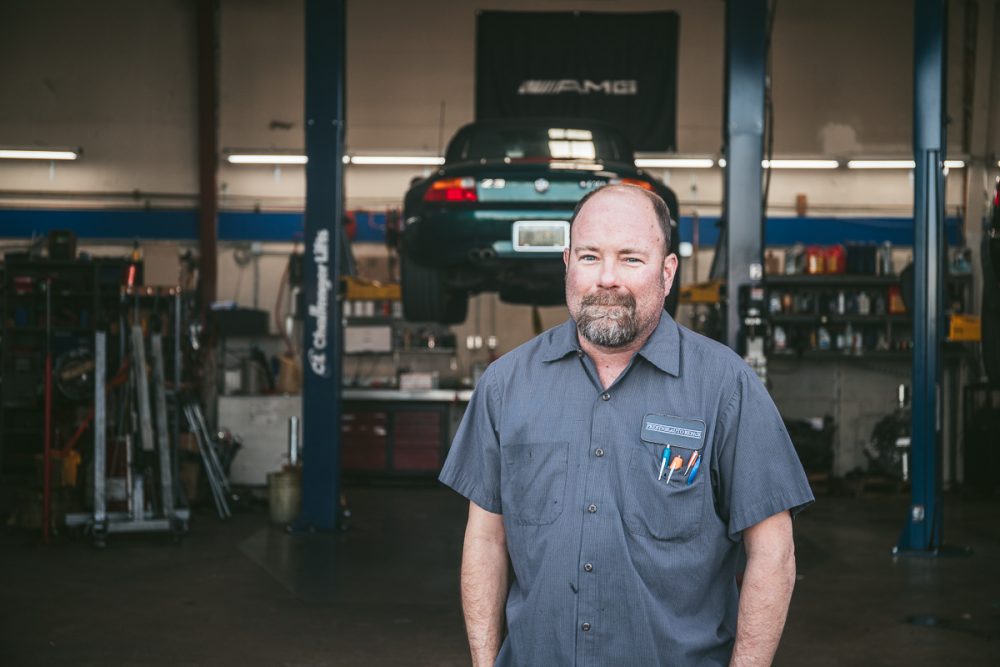 Aaron
Technician
Aaron one of our newest members of the team comes to Prestige, with a tremendous history of experience in the automotive industry. As Prestige was looking to expand our service offerings, we were searching for a tech with experience in Audi and Volkswagen, and of course Mercedes, BMW and Mini. Aaron fit the bill and has come on board with over 25 years' experience at independent and dealer facilities.
Aaron's vehicle of choice is an Audi All-Road that is a welcome addition to a lot that until recently housed Mercedes, BMW's, and Mini's.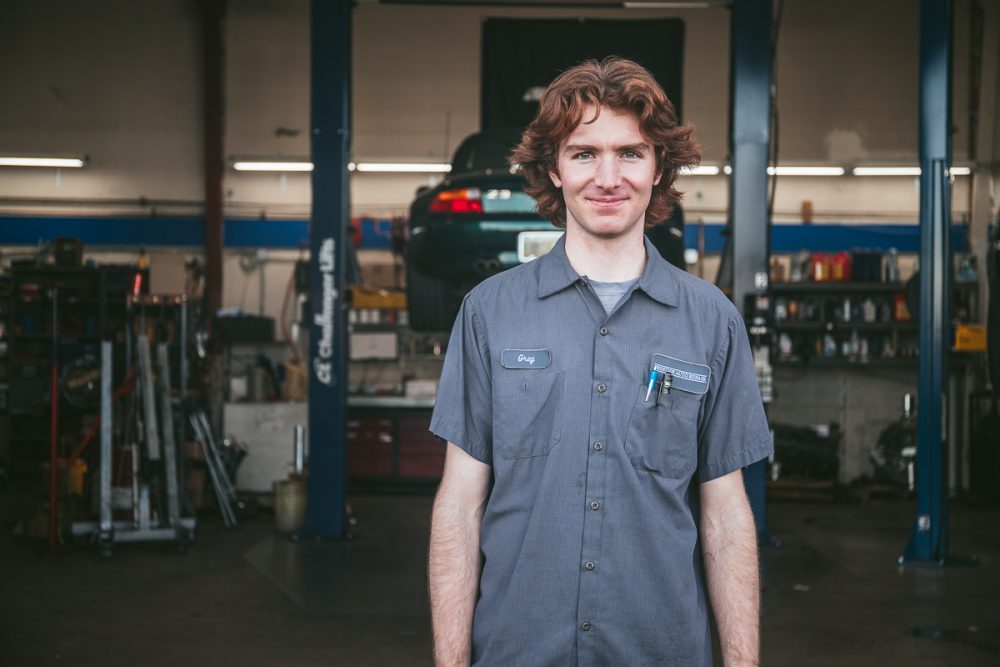 Greg
Technician
Greg is our youngest tech and joined the team after completing his Automotive Degree at Linn Benton Community College in Albany. He is another of our employees that hail from the city of Corvallis. His passions are at the ground level of the automotive repair field and has a passion to learn the trade on an everyday basis. Greg owns a Porsche, a BMW and spends most of his free time and money on Echo, his 3-year-old Corgi.
When not restoring his Porsche 944 he likes to spend some weekends hiking and exploring the Northwest and beyond with the Chemeketans, a local outdoor club in the Salem area. We use the term and beyond because Greg has a club trip planned for a hike in the Italian Alps.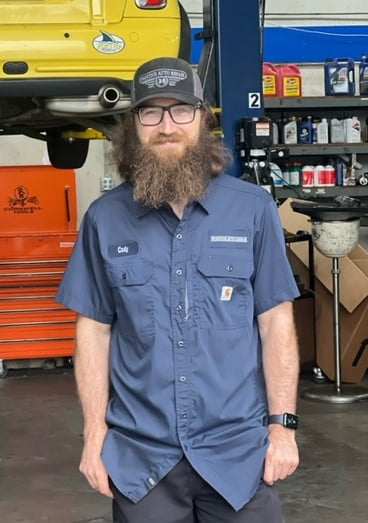 Cody
Technician
Cody joined the crew in May of 2022 and is an excellent addition to the crew. He hails from the southland and makes his home in the Albany area. Cody has ten plus years of experience in the foreign car field and has joined Prestige to help widen the areas Prestige serves. He is a skilled technician and comes to Prestige with outstanding references and experience.
In his free time Cody loves to attend Country Music concerts and festivals and has a few events already scheduled for his summertime enjoyment. Finally, he spends what free time he has left building Subaru rally cars from pretty much the ground up. A real enthusiast!